Arthur Stace was born into abject poverty in a Balmain slum in 1884. Both his parents were alcoholics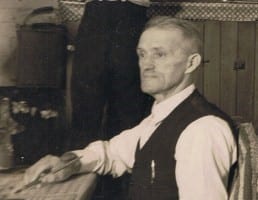 and to avoid them when they were drunk, he would sleep on bags under their house. His two sisters and two brothers were drunkards as well, and they all spent much time in jail. Later, his sisters took to prostitution and then to running brothels. His brothers died at early ages. Arthur would steal milk from neighbours' door steps, food scraps from bins and shoplift cakes, in order to supplement the little food, he had.
Stace's schooling was practically non-existent and when this came to attention of the authorities, he was made a Ward of the State at the age of twelve. He too, became an alcoholic and went to jail for the first time at the age of fifteen and this became a regular pattern. He grew to be a man of insignificant stature; 5'3" (160 cm) and barely weighing five stone.
When the First World War broke, Stace enrolled and served in France from where he returned gassed and half blind in one eye. It was not long before he returned to his addiction to alcohol. He went from beer, to whisky, to gin, to rum and finally to methylated spirits which he could buy for six pence a bottle. His alcoholism was so extreme that his mind began to go and he risked becoming a permanent inmate of Callan Park Mental Asylum.
At this stage in Arthur Stace's life, one would expect him to die at an early age, be buried as a pauper and not heard of again. However, this was not to be, because as on August 6, 1930, Stace went into St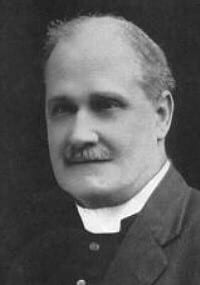 Barnabas' Church on Broadway where Archdeacon R B S Hammond (pictured) conducted mid-week meetings. The only reason he went was that he heard that after enduring an hour and a half of preaching all the men were given a cup of tea and rock cakes. At the meeting, Stace heard of the love of Jesus Christ and the price He paid for the sins of the world. When the meeting was over and he had his tea and cakes, he went across the road to Victoria Park, got down on his knees and asked Jesus into his life to be his Lord and Saviour. He later stated that after his declaration, he got back his self-respect and found employment. Stace later commented, "I went in to get a cup of tea and a rock cake but I met the Rock of Ages." As well, Stace gave up the grog that night.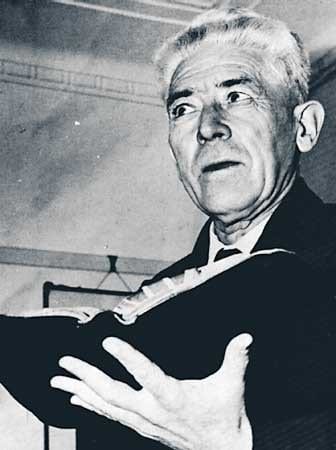 Sometime later he listened to a sermon by the Reverend John Ridley (pictured) in the Burton Street Baptist Church in Darlinghurst as he preached that evening; from Isaiah 57:15. The veteran evangelist stood with the power of scripture in his hand and the love of Christ in his heart and he stressed the word eternity. He pointed out that the echoes of eternity are not only in creation and in the Christian, but also in the cross. Then suddenly, laying his prepared notes aside and seemingly in an impromptu fashion, the highly disciplined soldier-like preacher, raised his loud voice and cried: "Eternity, Eternity, I wish that, I could sound or shout that word to everyone in the streets of Sydney. Your got to meet it, where will you spend Eternity?"[1]
Later, Stace commented; "His words kept ringing through my brain as I left the church. Suddenly, I began crying and felt a powerful call from the Lord to write "Eternity." I had a piece of chalk in my pocket and I bent down and wrote it. The funny thing is that before I wrote, I could have hardly spelt my own name. I had no schooling and I couldn't have spelt Eternity for one hundred quid. But it came out smoothly in beautiful copperplate script. I couldn't understand it and I still can't."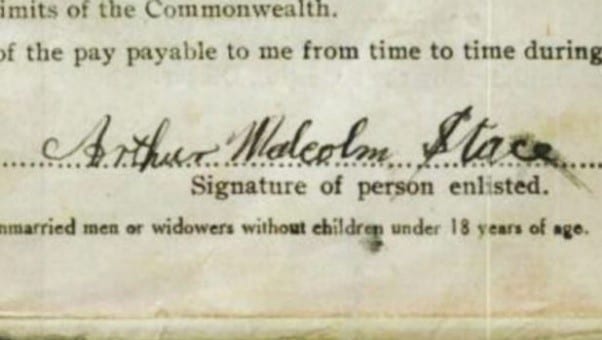 Stace claimed that his handwriting was appalling and his friends found it illegible. He demonstrated this to a Daily Telegraph reporter. He wrote Eternity which snaked across the pavement gracefully with rich curves and flourishes, but when he wrote his own name, Arthur, it was almost unreadable. See Arthur Stace's signature on his military enrolment form.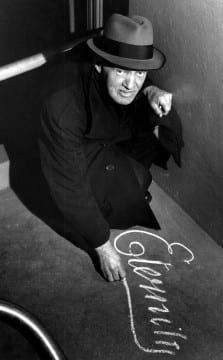 On January 22, 1942, Stace marriage Ellen Esther (Pearl) Dawson. Empowered by the Lord's direction for his life, he would rise at 4 am, pray for one hour, have breakfast and then set out to write "Eternity" on the pavement every hundred yards (metres), initially in chalk before he changed to yellow crayon. He would choose a different area each morning and be back by 10 am. Because he believed that he was doing the work of the Lord, he dressed only in his best outfits for these expeditions – usually a threadbare suit, battered felt hat, collar and tie – a diminutive shadowy figure moving around in the early morning light of Sydney. He kept this routine for 36 years and it is estimated that he wrote his one-word sermon about half a million times. He would do his best not to be detected and for 25 years Sydney people would be puzzled over who was writing on footpaths and walls around their city. But his anonymity was uncovered in 1956 when the Reverend Lisle M Thompson of the Burton Street Baptist Church saw Stace writing and knew him as the church's cleaner and prayer leader.
Pearl died in 1961 and Stace died of a stroke in a nursing home on July 30, 1967. He was 83 years old. He bequeathed his body to the University of Sydney medical school and his savings to Baptist missions.
Arthur Stace's Legacy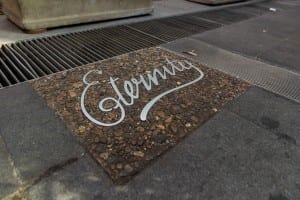 The people of Sydney wanted to remember the legacy Arthur Stace had left and after some discussion, Ridley Smith, the architect of Sydney Square set the word Eternity in cast aluminium of letters 21 cm (eight inches) high in a pebble mix near the Sydney Square waterfall. Ridley Smith did have an interest in Arthur Stace, according to the Sydney Morning Herald,[2] as a boy he used to hear him preach on a corner of Bathurst Street. Even more interesting, Ridley Smith was named after the fire-breathing Reverend John Ridley, the very man who planted the word "Eternity" in Stace's mind back in 1930.
Ignatius Jones produced the millennium celebrations in Sydney. He said he had chosen to honour Stace's legacy as a fitting way to mark a new era. He commented, "But it also says a lot about Sydney that Arthur Stace, who grew up in a brothel, came back from war shell-shocked and became a habitual criminal and an alcoholic, should be able to reinvent himself and try to bring joy and meaning into people's lives. This is a quintessentially Sydney message and one we want to spread."  It is estimated that 2 billion people would have viewed Stace's one word sermon.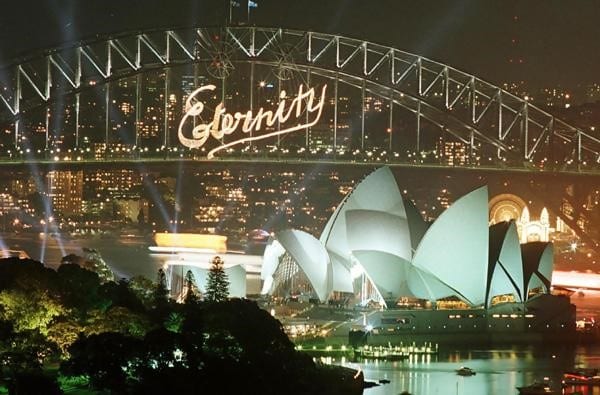 Comment
Arthur Stace's story shows what a powerful combination a willing heart and the Almighty can be. God can and does change lives to make something of people, even those who society has written off.
[1]https://atributetoaustralianchristians.wordpress.com/2010/10/22/arthur-stace/.
[2] Sydney Morning Herald, July 13, 1977.