Introduction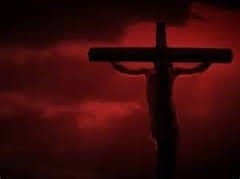 Crucifixion probably started first with the Persians (what is modern day Iran). Initially, the victim was suspended to keep his feet from touching the ground. The Phoenicians, traders to many lands, seem to have also acquired the practice and probably spread it to other cultures, including the Greeks. Alexander the Great (a Greek) introduced the practice to Carthage, where it was picked up by the Romans. The Romans started using it around the time Jesus was born.
The Romans perfected crucifixion as a punishment designed to maximize pain and suffering. It wasn't simply about killing somebody; it was about killing somebody in a way that induced the maximum amount of pain. The suffering in this form of execution is still reflected in the English word 'excruciating.' Crucifixion was also the most disgraceful form of execution. It was usually reserved for slaves, foreigners, revolutionaries, and vile criminals. The only time a Roman citizen was ever crucified was for desertion from the army.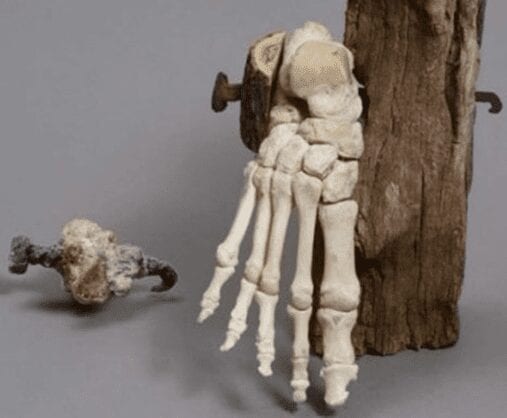 The condemned man would then be nailed to the cross bar. The nails would be driven through the wrists. The cross bar would be raised and placed on the upright post, where the victim's heels would be nailed to the post. This would allow him to breath by pushing up on the nail. An ankle with the nail still in place, from a crucified man, has been found and is shown.
Commentators state that the Romans wanted to inflict the maximum amount of humiliation onto the condemned man and as such, he was crucified completely naked. In fact, the Encyclopaedia Britannica states that all victims were crucified totally naked, but they offer not supporting information.[1]
Was the Lord Jesus crucified naked?
First, how is the naked human body viewed in the Bible?
Adam and Eve were created naked and they did not take any notice of it until they ate the fruit of the Tree of Knowledge of Good and Evil. Once they were able to discern good from evil, they tried to cover their bodies. God stepped in and covered them with the skins of animals. Of course, He had to kill animals to do so. So, Adam and Eve thought it to be sinful to be naked and even to look at a naked body. God showed that this was His attitude as well.[2]
After the Flood, Noah grew grapes, made wine, drank, became drunk and laid down in his tent without any clothes on. Ham, Noah's youngest son, saw his nakedness and laughingly told his two brothers, who covered their father by walking backwards with a garment between them and covered him in such a way as to not see his nakedness. Noah praised Shem and Japheth and cursed Ham's descendant Canaan for what Ham had done.[3]
As well, Exodus 28:42 refers to the priests serving in the temple; You shall make for them linen undergarments to cover their naked flesh. They shall reach from the hips to the thighs;
Many other verses can be quoted, but it is clear that nakedness and looking at a naked person, outside of marriage is sinful, with the exception of parents with small children and obviously carers of the aged.
How did the Jews treat nakedness?
The Jewish principle of "tzniut" rejects all nudity, not only in public, but also before family members at home. The rejection of nudity recalls Adam and Eve who, after committing the first sin, realized they were naked and instinctively felt ashamed and hid (Genesis 2:25). The same attitude reappears when Noah curses Ham, who saw his father exposed (Genesis 9:21-27).
Jewish laws stipulated that if a man was stoned to death he must be allowed to wear a loincloth.[4]
It is unlikely that the Jews would have requested to Pilate that Jesus be crucified with a covering, a loincloth. However, it is more likely that the Romans knew from previous experience, that there would be trouble if this was not done and it could have become a practise to cover a Jewish man before crucifixion. It was in Pilate's interest to keep the peace because this was a major parameter in how he was judged by Caesar.
Other considerations
Jesus paid the penalty for the sins of the world and He paid it completely. So why would He have not been humiliated by being crucified naked? The answer would be that if that was the case, those close to Him, His mother and friends would have been punished as well by being forced to look at a naked man, which is against God's moral law.
Those present at the crucifixion were Jesus' mother Mary, his mother's sister, Mary the wife of Clopas, and Mary Magdalene.[5] Mary the mother of James and Joseph (Joses) and the mother of the sons of Zebedee.[6] Five women are mentioned and quite possibly there would have been more.
Conclusion
It is clear that both the Bible and Jewish law prohibits anybody from looking at a naked body. With at least five women around Him and close enough to hear Him speak, it is difficult to believe that Jesus was totally naked, because if He was those women would not have been present.
Post Script
Most artists show the crucified Jesus as being a long haired man with a straight "Nordic" nose, strong jaw line, maybe a slightly injured face and wearing a loincloth. Perhaps Him wearing a loincloth is the only depiction which was correct. The Bible gives two descriptions of Jesus' physical appearance, both prophetic.
He grew up before him like a tender shoot, and like a root out of dry ground. He had no beauty or majesty to attract us to him, nothing in his appearance that we should desire him.[7]
Jesus was not a handsome man; nothing in his appearance that we should desire. From this scripture, Jesus may have been quite plain.
See my servant will act wisely, he will be raised and lifted up and highly exalted. Just as there were many who were appalled at him—his appearance was so disfigured beyond that of any man and his formed marred beyond that of any man.[8]
Note the description of Jesus on the cross: his appearance was disfigured beyond that of any man. After the many beatings He endured, his eyes would have been swollen and closed to probably slits. His nose would have been bloodied, lips cut and swollen, cheeks swollen and bruised. Streaks of blood, now dried, from the thorns pressed into His head would be evident. Quite possibly most of His beard would have been pulled out.
Finally, first century Jewish men thought it was effeminate to have long hair.[9]
[1] Encyclopaedia Britannia, 1962, volume 6 page 753.
[2] Genesis chapter 3.
[3] Genesis 9:20-29.
[4] http://www.jesus-story.net/crucifixion.htm.
[5] John 19:25.
[6] Matthew 27:56.
[7] Isaiah 53:2.
[8] Isaiah 52:13-14.
[9] 1 Corinthians 11:14-15.