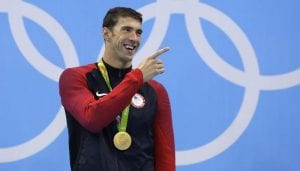 With 23 gold medals to his name; 14 clear of the next best Olympian, there seems little point any longer comparing Michael Phelps with individual athletes. He is the greatest Olympian the world has ever seen.[1]
For more than a decade, Michael Phelps has been in the spotlight for not only his gift of swimming, but also his unfortunate battle with substance abuse. Many are quick to label Phelps as another 'punk' athlete caught in a downward spiral of poor decisions. However, the 31‐year‐old swimmer recently revealed how he almost committed suicide in September 2014, but everything changed when God stepped into his life in the most extraordinary way.
"I was a train wreck. I was like a time bomb, waiting to go off. I had no self‐esteem and no self‐worth. There were times when I didn't want to be here. It was not good. I felt lost," Phelps revealed. He 'hit rock bottom' after getting arrested for drunk driving on 30 September 2014, marking his second DUI (driving under the influence) arrest within 10 years. Shortly before his arrest, a controversial photo had also emerged showing him smoking an illegal substance.
In the days following the incident, Phelps isolated himself in his bedroom in his Baltimore home, considering suicide. At that time, Phelps claimed he was thinking, "This is the end of my life … How many times will I mess up? Maybe the world would be a better place without me." While isolating himself, Phelps didn't eat, and hardly slept for at least a week as he continued pondering the idea of killing himself. That's when God sent him a miracle in the most heart-warming way …
Phelps' long-time friend, NFL star Ray Lewis, an outspoken Christian, came to his rescue. Before convincing Phelps to enter rehab, Lewis shared a few wise words with him. "This is when we fight. This is when real character shows up. Don't shut down. If you shut down, we all lose."
Thankfully, Phelps heeded his Christian friend's advice and entered a rehab facility. However, it was the shocking gift from Lewis that Phelps packed with him that had the most profound impact on him. When Phelps went to rehab, he entered carrying The Purpose Driven Life by Rick Warren a gift from Lewis. After reading the book for a couple days at rehab, Phelps called Lewis. "Man this book is crazy! The thing that's going on … oh my gosh … my brain, I can't thank you enough, man. You saved my life," Phelps told Lewis with excitement.
In a recent interview with ESPN Magazine, Phelps explained that the Christian book "turned me into believing there is a power greater than myself and there is a purpose for me on this planet." The Christian book also convinced Phelps to make amends with his estranged father, Fred, who divorced his wife when Phelps was just nine years old. For Phelps, Chapter 20 of The Purpose Driven Life weighed heavily on his heart. The chapter begins with 2 Corinthians 5.18, which reads: (God) has restored our relationship with Him through Christ, and has given us the ministry of restoring relationships. When Phelps and his father saw each other for the first time in years, they embraced in a big hug. "I didn't want to have that; what if I didn't want to go through life without having the chance to share emotions I wanted to share with him. That's what I missed as a kid," Phelps said.
Little did Phelps know then, God was about to change his life in even more extraordinary ways. After leaving rehab in November 2014, Phelps resumed training for the Rio Olympics at which he won five more gold medals and one silver medal. Three months after he resumed training, he asked his long‐time girlfriend, Nicole Johnson, to be his wife and they were secretly married. On 5 May 2015 the couple received their greatest blessing when Boomer Robert, their first child, was born.
Comment
If ever there was a case where the shallowness of what the world[2] has to offer has been exposed, this is it. Phelps had good looks, extraordinary Olympic success, great popularity and massive wealth;[3] all that this world holds up as the key to happiness. And yet, he was not satisfied and looked for fulfillment elsewhere. Drugs and alcohol were clearly not the answer and they took him on a downward spiral which was only leading to his death. Fortunately, a friend pointed him to Jesus Christ and only through Him did Phelps find true fulfillment, meaning, purpose and peace.
[1] Most of this article has been taken from: http://www.christiantoday.com/article/legendary.u.s.swimmer.michael.phelps.reveals.how.purpose.driven.life.by.rick.warren.saved.his.life/92191.htm.
[2] By world, I mean the message that the electronic and print media gives through, television, films, advertisements, magazines and newspapers etc.
[3] His net worth is estimated to be 44.3 million dollars as at August 4, 2016, http://moneynation.com/michael-phelps-net-worth/.