This story is reproduced due to the kindness of the Salvation Army. From their Warcry magazine. June 11, 2016
Radio host, mother of two and iTunes chart-topper, Emma Mullings knows what it means to rediscover your purpose, writes Jen Vuk.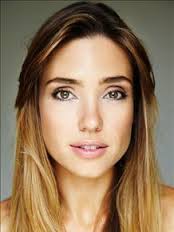 Emma Mullings can't wipe the smile off her face. And with good reason. The 34-year-old  Sydney-based actor, TV and radio host and singer/songwriter is still getting her head around the fact that her debut single 'Skinny Roads' raced to the #1 spot on the iTunes inspirational charts soon after its release last month.
It's been more than a decade since Emma last sat down at the keyboard to write a song, so you can understand why she's so bemused, but there's more to 'Skinny Roads'—an infectious pop-rock track—than meets the ear. 'I guess the best way to describe it is that it's a song about destiny,' she tells Warcry. 'We've all got dreams and visions in our hearts and it's a song about following that. 'You know, the wide, easy road is often the road people take and you might look over to the right and see many of your friends there, but to be really true to what you feel your purpose is you need to seek out the "skinny road", which might be a bit bumpy.'
Emma certainly knows a thing or two about finding the courage to follow the right road but, to be fair, she didn't have the easiest start to life. Emma grew up in Ipswich in Queensland where her parents, both pastors, planted a church. By the time she was two, her family had already weathered more than its fair share of heartache. An older sister, who had been born severely brain-damaged, died before Emma was born. A younger sister, who was also born severely brain-damaged, survived, but needed round-the-clock care. But more was to come. When Emma was four, her mum Susie passed away suddenly from lower intestinal cancer. 'It was 12 weeks from the day we found out to the day she died, so it was really quick and there was no time to prepare as a family,' she says. 'It was a very challenging time.'
As Emma explains, back then it was thought that it was unwise to talk to children about losing a parent, so she and her siblings were expected to just carry on. 'Considering the circumstances I think my dad did an amazing job,' she says. 'He held the family together. It was such a shock and he was completely heartbroken and left with three young kids, and the youngest with such high needs.
'My father eventually remarried and had another son, but I don't think the family ever really regrouped as such. My older brother and I were really angry and hadn't processed anything and both of us were really angry at God. We didn't question whether God was real, but we were both so mad at him. 'I thought God had rejected me. And Mum had rejected me. It didn't help that well-meaning people in the church would say things like: "You know your mum loved God, she's where she wants to be" and in the mind of a young child all you're hearing is that she wanted to go and didn't want to stay with you.'
At 14, Emma took definite steps to extricate herself from God and the church and got herself a job working on Sundays. So began an eight-year downward spiral in which, she says, she'd 'go out every night and drink myself stupid'. In the background, though, music still held sway. Just before her 20th birthday Emma came across an article about a scholarship to study music in Sydney. 'I got the scholarship,' she says, 'but I have no idea how… 'So I got in and moved to Sydney very quickly. It was an amazing course, but at the same time I was in such a dark place, and in Sydney there's so much more to numb your emotional pain. I was very depressed and there were days when I couldn't get out of bed.'
At 23, life, again, turn a surprising turn. While working at a Sydney radio station, Emma found herself working alongside a man called Terrence. 'I remember driving in the car with him and he was playing worship music and I told him to turn it off in no uncertain terms and pretty colourful language. I mean I was awful. But Terrence was very patient. He kept inviting me to his church and I kept making excuses. 'One day something clicked and I thought, "Why not?" So I turned up and it was both weird and like coming home. I mean, church was so much a part of my childhood.'
When an ex-Mafia boss started speaking about how God had transformed his life, Emma suddenly realised that God was offering her an opportunity to restore her life. 'And right then and there I made a recommitment to God,' she says. 'I was meant to go to the US with a music opportunity, but God spoke to me and told me to go to Bible College instead, which was absolutely insane, I mean I'd just been saved and was trying like mad not to swear, thinking "Really, Bible College? That's where Christians who've been Christians forever go."
'But I heard God's voice and knew he was capable of healing me so I was all in. I started Bible College in mid-year 2003.' Terrence wasn't going anywhere either. Four years later, the two married and now have two children, six-year-old Hosannah and five-year-old Jeremiah. 'I have learnt that if I remain open God will use my pain to help others to journey and to give them hope that God can turn situations around,' says Emma.
Nowadays, it's not just that Emma's own 'skinny road' is a lot less bumpy, it comes with no discernible speed humps, either. In addition to her regular gigs and resurgent music career (Emma's EP will be released in August), she and Terrence are busily planning to relocate the family to Miami, Florida, to plant their own church.
'I'm a pastor at the C3 City Church here in Sydney, and we're planning to start up the C3 next year,' she says. 'It's been part of Terrence's dream for a long time and early last year we went over to Miami to see if it could work and because I really needed to put my feet on the ground and hear from God for myself, which I did.'
God has certainly been a huge part of Emma's life and it's no great surprise that he will continue alongside her during the next leg of her journey.
'I feel that God has really breathed on this project and was telling me to just do it… I can honestly say that God has given me double for my trouble.'