Previous coastal exploration  
In order not to detract from the main thrust of this article, I have placed previous explorers of Australia in a foot note. [1]
Cook's expedition to Australia
James Cook was born in Marton-in-Cleveland Yorkshire on October 27, 1728. While in his late teens, he became an apprentice seaman on coal ships. His desire to join the Royal Navy became a reality in 1755 where he demonstrated his abilities in navigation, cartography (the science or practice of drawing maps) and leadership. As well, he continued with his studies in navigation, mathematics, astronomy and cartography and on his 29th birthday he joined the Pembroke, a 64-gun ship, as master. In February 1758, they sailed for Canada where he played a crucial part in the Quebec campaign by successfully re-charting the Traverse, a treacherous river crossing in the St Lawrence River. For this, he was referred to as "Master Surveyor."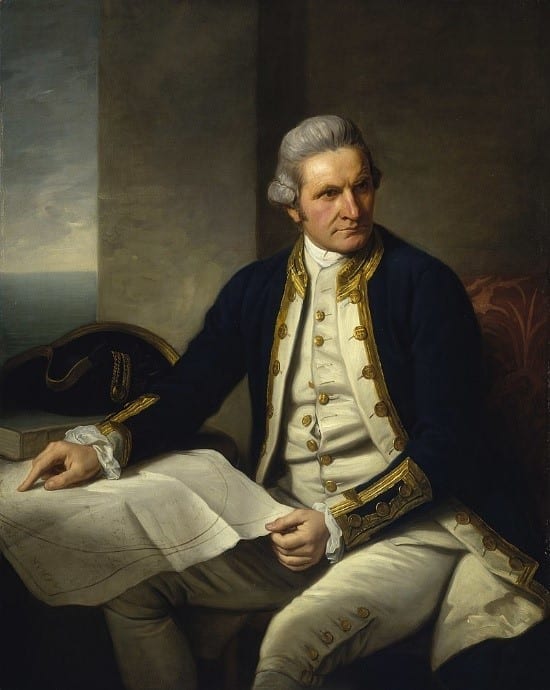 He married Elizabeth Batts on December 21, 1762.
The British feared the French might find the great south land mentioned by previous navigators first, so while ostensibly putting together an astronomical expedition to an unknown destination in the Pacific to observe a transit of Venus[2] on June 3, 1769, the Lords of the Admiralty secretly instructed Cook to find a new continent.[3] At 2.00 pm, on August 26, 1768, Cook set sail from Plymouth in the Endeavour, a coal ship chosen by him for its sturdy build, wide beam which enabled it to carry scientific equipment, and supplies for the long voyage. The supplies included 7,860 pounds of sauerkraut which is why no one on Cook's ships ever developed scurvy.
Cook and the Endeavour's crew constructed a fortified observatory at Point Venus in Tahiti and after their observation and note taking, Cook opened the instructions from the British Admiralty which told him to seek a Continent or Land of great extent and to take possession of it in the name of the king of Great Britain.
The instructions regarding him encountering any natives read in part:
You are … to observe the Genius, Temper, Disposition and Number of the Natives, if there be any and endeavour by all proper means to cultivate a Friendship and Alliance with them, making them presents of such Trifles as they may Value inviting them to Traffick, and Shewing them every kind of Civility and Regard; taking Care however not to suffer yourself to be surprised by them, but to be always upon your guard against any Accidents.[4]
Included with his instructions was a note from James Douglas, the president of the Royal Society on how Cook and his scientists should treat the natives they might come across. It states in part:
To check the petulance of the Sailors and restrain the wanton use of Fire Arms.
To have it still in view that sheding the blood of these people is a crime of the highest nature – They are human creatures, the work of the same omnipotent Author, equally under his care with the most polished European, perhaps being less offensive, more entitled to his favour.
They are the natural, and in the strictest sense of the word, the legal possessors of the several Regions they inhabit.[5]
After circumnavigating the two islands of New Zealand, then Cook headed west but the prevailing winds took the ship slightly in a northern direction. On April 29, 1770, the Endeavour sailed into Botany Bay. The indigenous people didn't want to interact with them despite Cook's trying to make contact with them on several occasions.[6] He gave a favourable report of the fertility of the land and its vegetation. He commented on the natives as being;
a timorous and inoffensive race…in no ways inclined to cruelty. They may appear to some, Dampier for example, to be the most unhappy people on earth, but in reality, they are far more happier than we Europeans….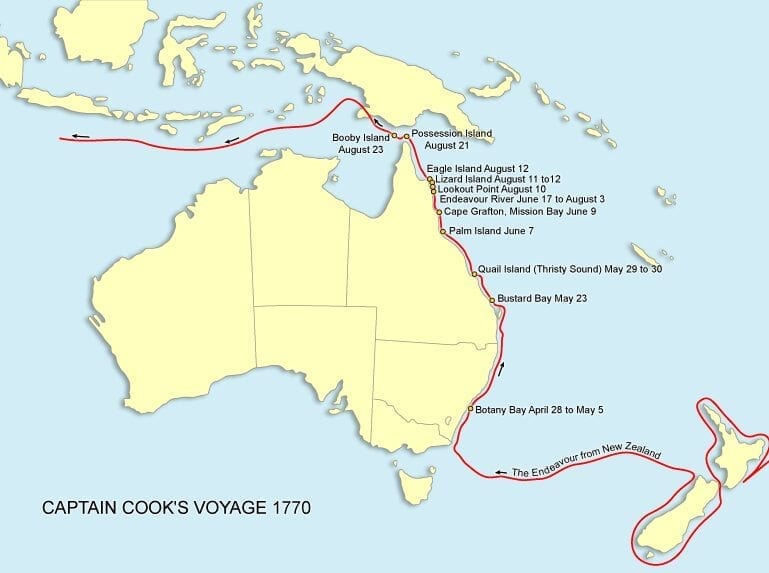 Image credit: Australian National Botanic Gardens
From there, Lieutenant[7] James Cook proceed to chart the eastern coast right up to the top of Cape York Peninsula and on an island which he named Possession Island, he hoisted the English flag and on Wednesday August 22, 1770 took possession of the whole eastern coast in the name of His Majesty King George III.
Christianity comes to Australia
Pedro Fernandes de Queirós was a Portuguese navigator in the service of Spain. He sailed in search for Terra Australis which he named and an English translation renders; The Great Southland of the Holy Spirit. He came close in 1606 when he sailed between Australia's north coast and New Guinea.
James Cook kept his Christians convictions to himself. However, he would not tolerate profanity on board his vessels. He required his men to wear clean clothes on a Sunday and on occasions he conducted divine services for his crew. His wife Elizabeth, gave him a prayer book which he carried with him and named places after significant church days: Whitsundays, Trinity Bay, Christmas Island and Pentecost Island.[8] Thereby placing a Christian stamp on this great continent for the first time.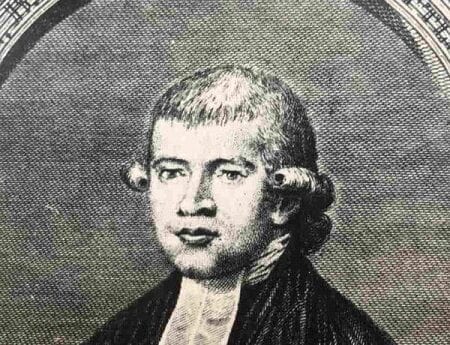 Cook's glowing report to the Admiralty of the land he took possession of in the name of the crown, opened the way for the establishment of a colony. On a Saturday afternoon, January 26, 1788 captain Arthur Philip raised the British flag on the south shore of Port Jackson. The eleven relatively small ships, brought with them between 750-780 convicts and around 550 crew, soldiers and family members. But more importantly for the future success of the colony and the nation it would develop into; the Reverend Richard Johnson (pictured) and with him, 100 full Bibles and 400 New Testaments.
Australia was established as a Christian nation and continued that way. The preamble to our constitution states:
Whereas the people of New South Wales, Victoria, South Australia, Queensland; and Tasmania humbly relying on the blessing of Almighty God, have agreed to unite in one indissoluble Federal Commonwealth under the Crown of the United Kingdom of Great Britain and Ireland, and under the Constitution hereby established.…
Even today (May 2020), the Australian Parliament is opened with the following prayer:
Almighty God, we humbly beseech Thee to vouch safe Thy blessing upon this Parliament. Direct and prosper our deliberations to the advancement of Thy glory, and the true welfare of the people of Australia.
The Christian view of aborigines compared with the evolutionary one
James Douglas expressed the Christian view on aborigines and all people exactly, with his statement:
– They are human creatures, the work of the same omnipotent Author, equally under his care with the most polished European, perhaps being less offensive, more entitled to his favour.
The Bible makes this perfectly clear that we are all part of one family. Acts 17:26:
From one man (one blood in the KJV) he made every nation of men that they should inhabit the whole earth;
No race is superior to any other race.
The evolutionary view on races is quite different. The full title of Darwin's book is as follows: On the Origin of Species by Means of Natural Selection, or the Preservation of Favored Races in the Struggle for Life. Proponents of his theory never mention the full title because of its racist overtones, which of course are in complete harmony with Darwin's hypothesis. The Australian aborigines when compared with Europeans would seem less evolved; they had no written language, no science or mathematics, they were nomadic and had no social structure of any significance. They did not plant crops or store any harvest. They only carried with them what they needed for survival. However, they managed to survive in a harsh climate which has taken the lives of many Europeans.
There is no doubt that the average intelligence of the aborigines, if such a thing could ever be measured, would be equal to the average intelligence of their European brothers, because we are all children of Adam.
The concept of the evolution of races being at different stages has an even darker side; the Nazis eagerly made use of this since it was already entrenched in German academia and simply carried them to their logical conclusion. They tried to exterminate the "inferior" races like the Jews, Gypsies, and Slavs, as well as the "unfit" (e.g. the handicapped). This is confirmed by the evolutionist Sir Arthur Keith, who wrote:
The German Führer, as I have consistently maintained, is an evolutionist; he has consciously sought to make the practice of Germany conform to the theory of evolution.[9]
It was not just Nazi Germany, but the Allied nations as well. In fact, even before WWII, evolution had inspired forced sterilization programs of "inferiors" in Lynchburg, Virginia, USA, and Vermont.[10]
Conclusion
Australia has flourished because of its Christian heritage, its laws inherited from Britain, are based on the Bible. The freedoms they encompass has enabled its people to live and prosper. However, in recent years there has been a rejection of Christianity and its values from powerful forces within Australia; the free-to-air media, government schools and universities. Freedom of expression has been severely curtailed; feelings matter, facts don't. It is now deemed as a crime to quote certain sections of the Bible, this has been labelled a "hate crime" and new words have been invented by this anti-God, predominantly taxpayer funded, elite. If a person upholds the biblical view of homosexuality, he/she is branded as being homophobic. If someone holds to the fact that God created only two sexes and they are not interchangeable, which is amply supported by science, then that person is transphobic. If someone does not embrace Islam then that person is Islamophobic.
Despite all of this, Christians can take heart from Jesus' words:
I will build my church and the gates of hell will not overcome (prevail against) it. Matthew
[1] 1606 Willem Janszoon A Dutch navigator who made the first recorded European landfall on the Australian continent. On February 26, 1606 he landed on the western shore of the Gulf of Carpentaria.
1606 Luís Vaz de Torres. A Portuguese-born navigator who commanded a party of three Spanish ships and sail between Australia and New Guinea only a few months after Janszoon. Torres Strait was named after him.
1616 Dirk Hartog. His expedition was the second European group (a Dutch navigator) to land in Australia and the first to leave behind an artefact to record his visit, the Hartog plate was left where he made landfall at Shark Bay.
1619 Frederick de Houtman.  Sailing in the Dutch East India Company ship Dordrecht, de Houtman, sighted the Australian coast near present-day Perth and sailed up the west coast.
1642 Abel Tasman. The Dutch seaman who was the first known European explorer to reach the islands of Van Diemen's Land (now Tasmania), Fiji and New Zealand.
1696 Willem de Vlamingh. A Dutch sea captain who explored the central west coast of New Holland (Australia), where he landed in what is now Perth on the Swan River.
1699 William Dampier. Dampier was an English explorer, ex-pirate and navigator who became the first Englishman to explore parts of what is today Australia, and the first man to circumnavigate the world three times. He made important contributions to navigation, collecting for the first time, data on currents, winds and tides across all the world's oceans. These were used by James Cook and Horatio Nelson.
[2] To discover the reason why Cook was sent to observe the transit of Venus and its value, go to: https://science.nasa.gov/science-news/science-at-nasa/2004/28may_cook.
[3] Elizabeth Rogers Kotlowski, Southland of the Holy Spirit, 1994.
[4] https://www.foundingdocs.gov.au/resources/transcripts/nsw1_doc_1768.pdf
[5] https://www.nla.gov.au/digital-classroom/senior/Cook/Indigenous-Response/Mortons-Hints.
[6] http://www.cooktownandcapeyork.com/do/history/cookslanding.
[7] He was promoted to Captain on arrival back at England.
[8] Elizabeth Rogers Kotlowski, Southland of the Holy Spirit, 1994.
[9] Keith, A., Evolution and Ethics, Putnam, NY, USA, p. 230, 1947, cited by Jonathan Sarfati, Creation, 22(1), 1999.
[10] Wieland, C., The Lies of Lynchburg, Creation, 19(4):22–23, 1997.